Connecting and collaborating with other organisations and individuals is central to our research.
Members of the research group are frequently involved in activities and events beyond St Andrews.
Here are a few highlights –
Internal Migration Event, National Records of Scotland
An event focusing on internal migration in Scotland will take place on Wednesday 4th October, 2:30-4:30pm, hosted by National Records of Scotland, Ladywell House, Ladywell Road, Edinburgh
This event will focus on the findings of a recent project led by Dr David McCollum and colleagues at the Universities of St Andrews and Edinburgh which focused on recent internal migration trends in Scotland. Fore more details about the event here and the project here
---
NRS demographic and POPGROUP training programme
Alan Marshall, Ludi Simpson and Sarah Christison recently ran a three day course on Demographic methods and population projections (30th August to 1st September) sponsored by National Records of Scotland. For more details see their separate page on this site.
---
Summer 2017 conference season
Members of the Population and Health Conference have been sharing their reseach at academic conferences throughout the summer. Most recently researchers attended the RGS-IBG Annual Conference in London and the British Society of Population Studies annual conference in Liverpool.
---
International Conference on Population Geographies, June 2017
Population and Health members, David McCollum and Helen Packwood presented papers at the ICPG Conference in Seattle at the end of June. The three day conference at the University of Washington attracted researchers from across the globe. For more information on the program and keynote speakers click here

---
ADRN conference, May 2017
Alan Marshall and Fiona Cox hosted a CALLS Hub-sponsored strand at a recent ADRN conference in Edinburgh.
The lineup of speakers includes a keynote talk by Prof. Johan Mackenbach (Erasmus), at the invitation of CALLS Hub. Four sessions are being sponsored by CALLS Hub with the aim of promoting the value of an international perspective to understandings of health inequalities and patterns/processes of migration using longitudinal census studies and population register data.
For further information, please select the conference agenda.
---
The Annual Meeting of the Population Association of America (PAA)
April 2017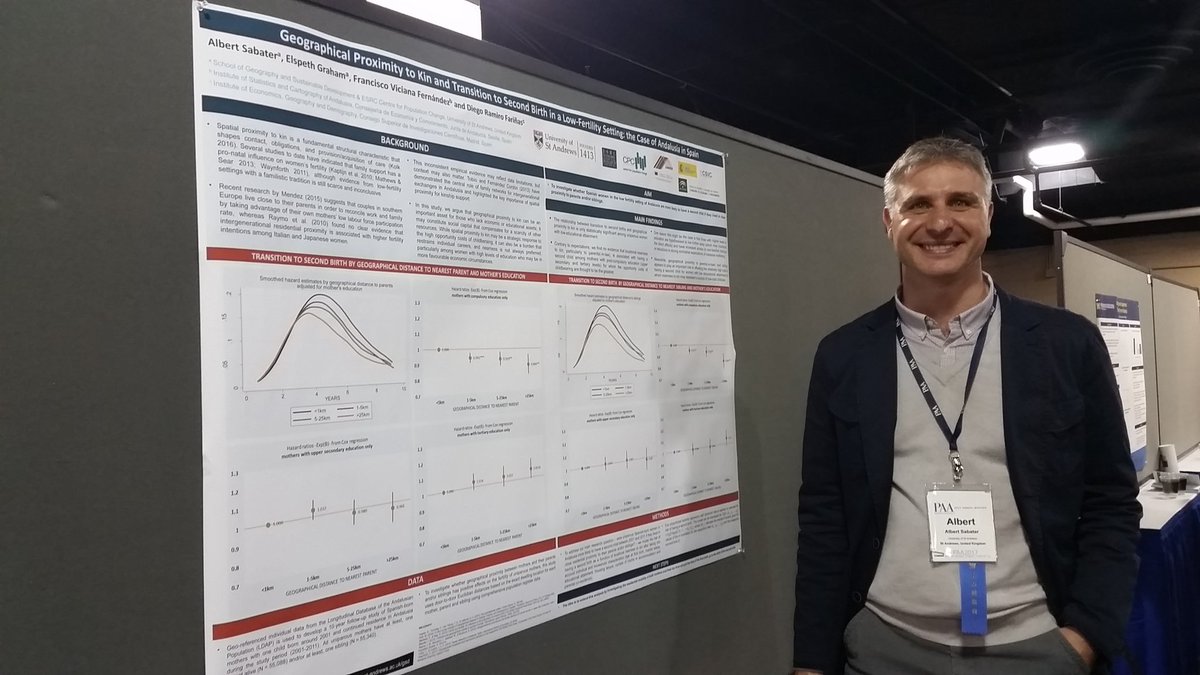 The Population and Health Research Group from the School of Geography & Sustainable Development at the University of St Andrews had a significant and successful presence at the recent Population Association of America Annual Meeting 2017.
The Annual Meeting of the Population Association of America (PAA) provides a forum for demographers, geographers, sociologists, economists, public health professionals, and other individuals interested in research and education in the field of population studies. In 2017 the PAA conference took place in Chicago, Illinois (USA), April 27-29.
Radstats Conference
18th Feb 2017
Nissa Finney, Alan Marshall, Glenna Nightingale, Albert Sabater and Bozena Wielgoszewska (now at the University of Edinburgh) organised the 2017 Radical Statistics Conference in Edinburgh.
http://www.radstats.org.uk/conference/Edinburgh2017/
CALLS Hub Webinar
13th December 2016
Fiona Cox and Alan Marshall delivered the first CALLS Hub webinar this week on the use of census longitudinal studies for research on health inequalities. The webinar featured excellent presentations from researchers at the University of Liverpool, St Andrews and Queen Mary University of London. A recording is now available on the CALLS Hub website at http://calls.ac.uk/guides-resources/thematic-guides-webinars/
Urban Health Collaborative Research Seminar
17-22nd November
Dr Allan Marshall presents at the Gerontological Society of America Conference in New Orleans and visits Dornsife School of Public Health to give a talk.
AQMeN International Conference: Rediscovering inequalities
26-27th October 2016
---
British Society for Population Studies Conference 2016
12-14th September 2016
---
European Population Conference 2016
31st August – 3rd September 2016
---
RGS-IBG Conference 2016
30th August – 2nd Septemeber 2016